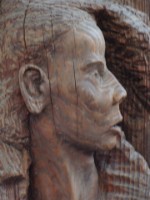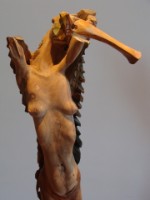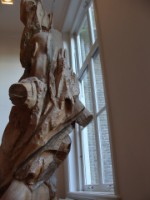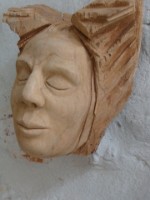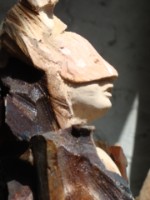 Jan Mostert is a Dutch sculpter and guitarist. Next to autonomous work, work on commission and projects in coorporation with public schools, Jan provides exciting workshops in sculpting and carving of woods.
His autonomous work has meanwhile grown into a large collection of sculptures, purchased by many individuals and corporations in the Netherlands as well as abroad.
"Trying to describe his work one soon falls short: from impressive and subtle to imposing and alienating, one is tempted to choose the category of surrealism".
Every viewer is unique and looking at the work divergent effects are induced.
From the quick shopper who just utters the words "oh, wood", through the attentive visitor who spends large amounts of time investigating the work and often "falls in love" with it, to people who get spooked by the work and hurry off.
Jan's work is created in many different kinds of wood and in most cases is not very suitable for long term outside placement. The sculptures that are suitable for outside placement often weather into a grey-like platinum but do thereby not lose any of their beauty and uniqueness.
In his guitarplaying the same aspects can be found: free work sculptes it's way through formal West-European and the emotion of Spanish influences, close to Flamengo.
Besides this Jan guides a number of singers-songwriters in performing and developing their autonomous work.